OPDS has recently purchased three (3) sets of HYD Rock Splitters, after a lot of years trying to break rocks with other methods and wasting time and money. We have personally used these and the results are good and it works! So if you have a rock or boulder you need cracked, and you have tried other splitters, excavator hammers and all other methods and can't use explosives then… GIVE US A CALL!
These HYD Rock Splitters would be ideal for…
Shaft sinking,
Hard rock trench work,
Heritage Building Sites.
This method works and WILL SAVE your company, contractor, council TIME and MONEY. Give us a call today!


POWERKING PRS – 95 | HYDRAULIC ROCK SPLITTER
DELIVERING INNOVATION, RESULTS & RELIABILITY, WHILST SAVING YOU MONEY
Demolish Rock and Concrete Economically and Environmentally friendly.
Hydraulic rock and concrete splitters provide a powerful and extremely cost-effective alternative to other conventional demolition techniques.
Hydraulic splitting means controlled splitting, and this method eliminates shock waves, vibrations, dust and noise that large impact tools usually produce.
Splits Quiet and Safe.
Hydraulic splitting means controlled demolition. Holes are drilled into the rock of a specific diameter then the Rock Splitter is positioned in the hole. The Rock Splitter pushes up in one direction, quickly &efficiently splitting the rock. The entire force developed is always under full control. The Rock Splitter with its fool-proof operation, simple structure and low maintenance cost is superior among all other demolition equipment.
Suitable for most rock and concrete demolition.
Building Foundation
City Rock Demolition
Concrete Demolition
Quarry
Tunneling
Underwater Rock Demolition
Core Drill Demolition
Specifications
The Rock Splitter consists of three main components
Splitting Cylinder
Hydraulic Pump
Electric Power Supply
Vibration & Noise Free. Simple Operation. Economic & Productive. Maneuverability & Wide Application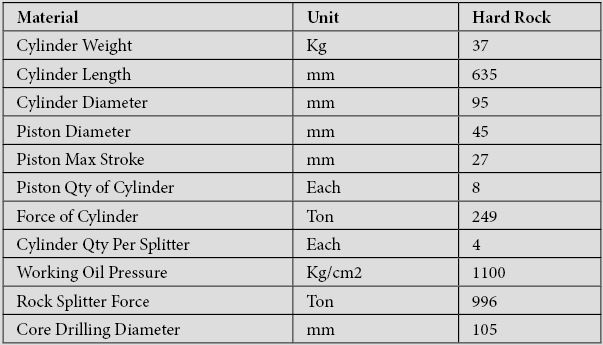 ---